Summary
New technology tools like smartphones, apps and smart devices are changing the way how employees access, manage and utilize their employee benefits (EB) packages. Making benefits elections, switching plans, and getting detailed information about EB is becoming easier than ever before for employees, thanks to the tech advancements.
Enhancing the employee benefits experience, minimizing administration costs and streamlining HR tasks are all becoming crucial for employers presently. In such a time, it is increasingly important for employers to harness technology in an advanced way for benefits administration tasks. Integrating benefits technology solutions also means a more engaged, satisfied and productive workforce. It simplifies the task of making right benefits elections for employees while giving them better access and control over the corporate health, and wellness benefits.
Addressing this aspect, this whitepaper addresses the role of technology in employee benefits modernization, as well as, challenges and opportunities associated with benefits technology integration into the business.
Rising Popularity of Employee Benefits Technology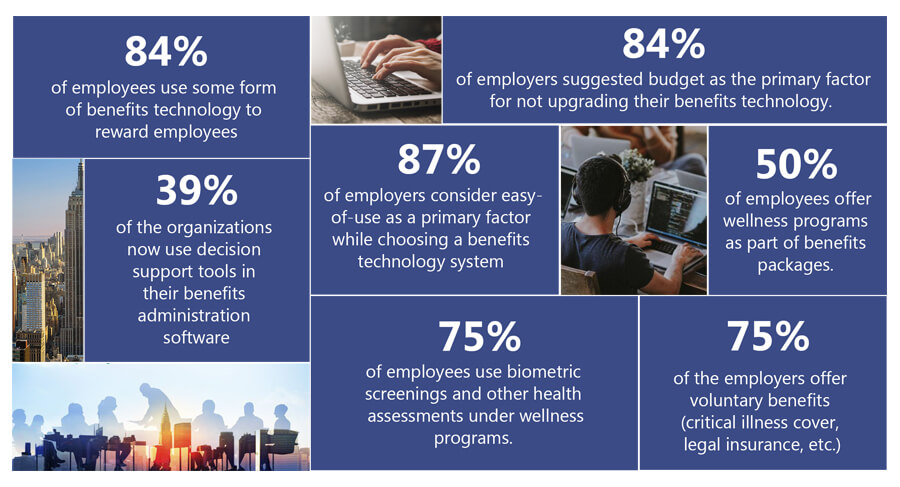 By utilizing the benefits administration technology, companies are improving employee experiences by giving them complete control over their health, wellbeing, and finances.
Not only employees, but advances in benefits technology is also reducing the workload of HR teams. They are becoming more strategic while forming employee benefits packages and taking decisions while recruiting talent and identifying areas for cost-reduction.
Use of technologies like Artificial Intelligence, machine Learning, data analytics and more are becoming common in building decision support tools in benefits administration software for helping employees make right choices. These tools analyze past claims data, coverage utilization patterns, purchasing patterns, and more to offer personalized plan recommendations to employees.
Download the whitepaper to find out the latest Employee Benefits Survey Findings and suggested techniques for benefits modernization in a human way, including:
Build a culture of inclusivity and diversity where people's opinions are heard and acted upon.
Instant recognition and rewards for appreciating quality work across all departments.
Establish long-term trust by prioritizing employees' physical and mental well-being and safety.
Creating flexible benefits packages with instant harnessing technology smartly.
Broader the definition of workplace flexibility by making it truly inclusive for employees across all levels.
Emphasis upon learning infrastructure